If you weren't able to tune in on Sunday, here were some of the moments that really stood out to me:
1. Gabriel Sherman, the author of the Roger Ailes biography "The Loudest Voice in the Room," had blunt words about the Fox News chairman. "Roger Ailes has created a political operation that employs journalists," he said at the beginning of my conversation with him.
Fox News, Sherman said, "exists for two reasons. To generate as much profit as possible for its corporate parent Rupert Murdoch, and advance the personal, political agenda of its founder, Roger Ailes." I followed up: "So you're saying it's a news channel, but it's also a political machine?" He said: "No, I'm saying it's a political machine that employs journalists."
TVNewser and Mediaite have published summaries of Sherman's comments here. A Fox News representative said in a statement afterward that "this latest effort appears to be another example of the agenda-driven cottage industry built on attacking Fox News. The author's failure to secure an interview with the principal subject does not absolve his fact-checking obligations with the network."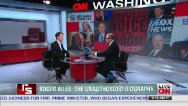 2. I was also struck by the comparison Sherman made between Ailes and the former Apple chief executive Steve Jobs. "Both are American icons," he said. "Apple was a complete expression of Steve Jobs' world view and that's why he was successful. Fox News, very different product, but it's a complete expression of [Ailes's] vision and he is able to marshal thousands of people…to execute his vision and that takes tremendous talent."
3. After the Sherman interview, I asked the authors of another book, "The Outrage Interview," for their reactions. Co-author Jeffrey M. Berry made an important point about the profitability of what Ailes created:
Fox is a business; if Roger Ailes walked away tomorrow, Fox would continue to do the same thing. Fox is actually the most profitable part of its parent corporation, 21st Century Fox. It makes more profits than any other part of the business.
By the way, "Reliable Sources" producer Jamie Gray conducted what's known as a "pre-interview" with the professors before the broadcast;
I've published some of the highlights from that interview here.
4. "There's been a little bit of a Chris Christie bubble in the media," said Michael Crowley, the author of this Time magazine cover story about Christie, during a discussion of the current George Washington Bridge controversy.
Crowley said it's fair to say that Christie "has gotten pretty favorable press," but that "now the table is turning a little bit. There's a little blood in the water. And there may even be a sense on the part of some reporters that they need to overcompensate as a result." Here's the whole television segment.
5. It seems that are geopolitics at play in the current imprisonment of three Al Jazeera journalists in Egypt. Bernard Smith, an Al Jazeera English reporter, told me that it's "well-known that Egypt has an ax to grind with Qatar," the home of Al Jazeera's array of networks. Smith said "Al Jazeera operates independently" of Qatar, "but, unfortunately, because our guys were the only physical presence of Al Jazeera in Cairo, it seems that they have decided to pick them up." Watch the television segment here.
---
Next week I'll be in Park City, Utah to cover the Sundance Film Festival. Hope you'll join me for the show - Sunday at 11 a.m. Eastern.
–Brian