Good morning! This Sunday morning on "Reliable Sources," we'll be talking about... Sunday morning television. Specifically, the storied NBC program "Meet the Press," which was the subject of this Washington Post story at the start of the week: "As 'Meet the Press' struggles in the ratings, plenty of questions for host David Gregory."
The story said that NBC had a "psychological consultant" assess Gregory last year. NBC strongly disputed the word "psychological." To peek behind the curtain at the use of consultants in television news, I'll talk with Andrew Heyward, a former president of CBS News, and Jack MacKenzie, the president of Magid Generational Strategies.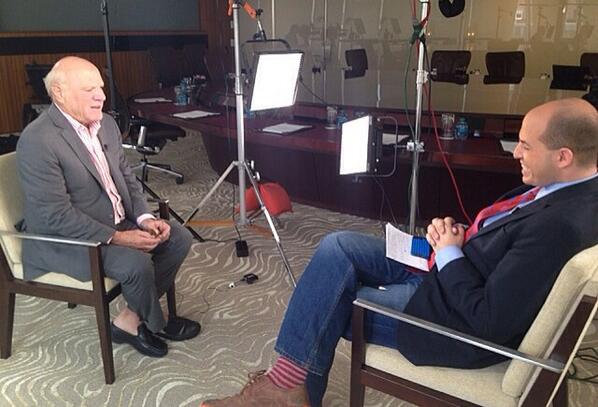 I'll also air an exclusive interview with Barry Diller, the media mogul who financed Aereo, the startup being sued by all the major broadcasters in the United States. Diller was in the courtroom on Tuesday when the Supreme Court justices heard Aereo argue for its life. A few days later, he agreed to sit down with me for an interview. He told me what he thought of Tuesday's hearing and what a win - or a loss - by Aereo in court will mean to the future of television. (The Diller interview expands on my conversation last week with Chet Kanojia, the chief executive of Aereo. You can watch it here if you missed it.)
I'll also have a follow-up to last week's interview with investigative correspondent Sharyl Attkisson, who resigned from CBS News last month. She raised a question about whether the progressive media monitoring group Media Matters was paid to target her after she produced stories that were unflattering toward the Obama administration. She also said Media Matters "used to work with me on stories and tried to help me produce my stories," before turning against her. David Brock, the founder of Media Matters, will join me to discuss what his group does and doesn't do.
Two other segments to tell you about:
I'm very excited to talk with Mike Bettes, a meteorologist at The Weather Channel. Bettes has been chasing tornadoes for years. (I first met him in 2011 when we were both in Joplin, Missouri covering the aftermath of the disastrous tornado there.) This weekend he's going back out on the road for the first time since he and his crew were injured covering the El Reno, Oklahoma tornado last year. I'll ask him about what, if anything, he'll do differently this year.
And I'll look at the news coverage of Cliven Bundy's dispute with the government through a Red News/Blue News lens.
See you at 11 a.m. Eastern time!
–Brian