If you weren't able to tune in over the long holiday weekend, here were some of the moments from Sunday's "Reliable Sources" that really stood out to me:
1. Sarah Ellison, the only reporter to have interviewed New York Times publisher Arthur Sulzberger since he fired Jill Abramson earlier this month, said "there don't seem to be divisions" in the Sulzberger family "that we've seen in other newspaper families."
In her interview, Sulzberger mentioned "that he had gotten very, very supportive messages from his family throughout this," she said. "I think one of the things that's interesting is the more that he is under siege, the more the family rallies around him." Here's the rest of what she said...
2. At the beginning of the program, I interviewed Dr. Sam Foote, who blew the whistle on health care delays at the VA in Phoenix. Then I brought in CNN correspondent Drew Griffin, who shined a national news spotlight on Dr. Foote's story. Here's the video.
STELTER: Congressman Jeff Miller was on "New Day" on Thursday, and he said "this is just the tip of the iceberg. I know there is more to come." I know you don't want to give away any tips to competitors, but do you have more to come? Are you pursuing specific leads now?

GRIFFIN: We're pursuing leads all over the country. We're getting whistle-blowers coming forward. The problem is, each one has to go through that specific process… You know, it's one thing to get a tip. It takes a long time to develop a tip, and now we have this environment where a lot of other media jumped on board.

So we're not the only ones chasing this. So there is a little bit of a competitive edge going on. It creates a lot of work. But I don't doubt there is more to come because I truly believe this is systemic throughout the country.
3.
At the end of the program, I held up this sign: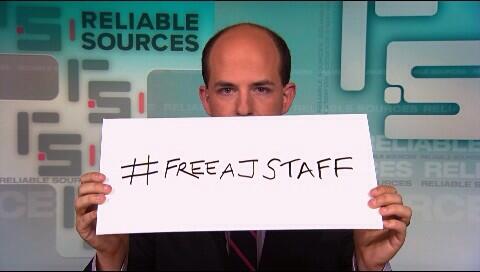 Three Al Jazeera journalists are still behind bars in Egypt, nearly five months after they were detained and falsely charged with aiding a terrorist organization. Here's what I said about the case.
4. Paul Begala and S.E. Cupp joined me to analyze the whispers about Hillary Clinton's health — what I labeled a smear campaign.
"The problem with this smear campaign is it's not a very effective one," Cupp said, referring specifically to Karl Rove's comments about Clinton. "A smear campaign that has the indirect result or consequence of invoking sympathy for the target is not a really good smear campaign."
Begala agreed about Rove: "It has backfired on him completely."
5. In that same segment, I asked Begala how the playing field has changed since Bill Clinton's presidential campaigns in the 1990s:
BEGALA: You know, this may surprise you. Everybody always thinks everybody is worse.

I think it might be better, Brian. I think it might be better. Here is why. The democratization of media means that, as powerful as Rupert Murdoch is, he doesn't have the only microphone or megaphone. And I think, I hope - this is me, the optimist - that all of the bloggers, all of the tweeters, all of the self-publishing folks can police these lies much more effectively, frankly, than the traditional media used to be able to.

In the '90s, we had none of that. And now we have - on the liberal side, we have Correct the Record and American Bridge and a group of folks who really police conservative media. Conservatives have folks who police us liberals, which is a good thing, too.
Here's the whole segment...
6. And here's Red News/Blue News, with a look at cable and digital coverage of the AT&T-DirecTV merger.

---
Let me know what you thought of the show. See you next Sunday at 11 a.m.!
–Brian