In the video above, Brian Stelter, Peter Beinart and Jonathan Landay discuss media coverage of the crisis in Iraq.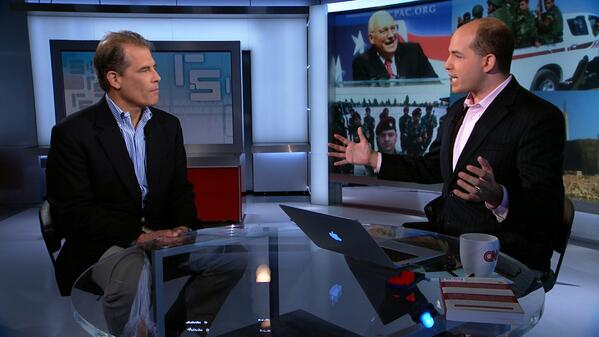 Stelter's opening comment: "Who are the reliable sources on the crisis in Iraq? There has been a roar in recent days - I heard it all over my Twitter feed - from viewers who want to know who the so-called architects of the 2003 invasion are now inhabiting TV studios once again, giving advice about what to do this time."
---
Peter Beinart, who wrote "Even Iraq's Sinners Deserve to Be Heard" for The Atlantic this week: "I think it's definitely true that the media's foreign policy conversation has an instinct towards kind of Beltway insiders who share basic assumptions. And some of the people who had the intellectual foresight and creativity to question the assumptions that led us to Iraq still don't get on the air, which is a big problem…"


"But I don't have a problem putting on people who were architects of the Iraq war on to talk today - as long as they have to reckon with what happened in the past. We shouldn't treat the past as if it's irrelevant. It's not irrelevant. It's highly relevant."


---
McClatchy national security correspondent Jonathan Landay: "There seems to be this historical habit of the American media to rehabilitate people… On the Iraq invasion, I mean, you have people on CNN who were mouthpieces for the Bush administration and were handing out misleading and inaccurate information to the American public and the world - who are treated as legitimate, credible political commentators. I think that is a very serious problem for the media that it needs to get a grip on."


---
Beinart: "Oftentimes in the media, the notion of balance is someone who's associated with the Democratic Party and someone who's associated with the Republican Party. That's the notion of having different points of view.
So, when you have an environment, as unfortunately did happen a lot in the run-up to the Iraq war, where both the leaderships of the Democratic and the Republican Party basically have a similar point of view - because oftentimes, remember, the Democratic and Republican Party often may agree on more than they disagree on - that's when really, really critical perspectives don't get offered."